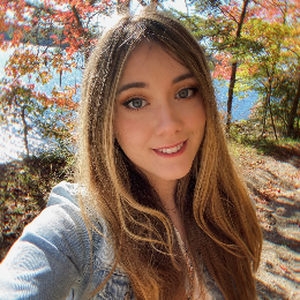 Need to Hire a Health Writer?
Hi, I'm Brooke.
I'm a freelance writer who helps health & wellness brands and publications create their content.
I help you connect with your audience through research-backed articles, blog posts, web copy, emails, and more.

Check out my portfolio and learn more about how I can help you here!
What I Do
I work with health and wellness businesses to create content that educates and empowers readers. 

I help you build authority by turning complex health topics into easy-to-understand articles. I can dive into dry scientific studies, grab relevant pearls of info, then incorporate them into engaging content that answers your reader's key questions. No technical jargon or unfounded miracle claims. 
Your content will be well-researched and backed by science, but still interesting and fun — like chatting with a knowledgeable friend

My clients trust me to create top-notch health and wellness content that makes a difference. And I'd love to do the same for you.

Topics I Can Cover:
I cover a wide range of consumer-focused health and wellness topics, including:
•Healthy Eating and Nutrition
•Intermittent Fasting and Time-Restricted Eating
•Specialized Diets, such as Keto, Paleo, or Plant-Based Diets
•Cannabis, CBD, THC and Other Cannabinoids
•Chronic illnesses and Autoimmune Conditions
•Healthy Skin, Hair, and Nails
•Gut Health & the Brain-Gut Connection
•Fitness and Exercise
•Mental and Spiritual Health
•Mindfulness, Meditation and Healthy Mindset
• Pet Health & Wellness

Why Hire Me as Your Health Writer?
Because I've worked with a wide range of clients across the health & wellness industry — from industry-leading brands to new startups finding their footing. And I know how to get results. 
I've written:

•Editorial articles for national and global media outlets. like Forbes Health and Insider.
•Blogs posts that made the featured snippet on Google.
•Copy that helped boost a client's organic search discovery by over 100% within 6 months.
•E-mails that improved click rates by 20% the first week I started..
Not to brag or anything. Just saying. 

My health and wellness content helps you educate readers and empower them to choose your brand. You don't have to worry about researching, writing, and editing everything yourself. That's why you hire a health writer: so I can take care of the hard part, and you can focus on what matters to you — making a difference with your business..
Cool Words from Cooler People: 
"Brooke is one of the most talented writers I've had the pleasure of working with. She has a strong voice and produces accurate, engaging, and humorous (when appropriate) content. If you give her feedback, you can count on her absorbing it and putting it into practice right away. She also has a great range and doesn't shy away from digging into complex topics. I'd work with her again in a heartbeat!"
Crystal Raypole, Freelance Editor, Insider.

"IF YOU'RE LOOKING FOR A WRITER, THIS IS THE ONE... Wow! Just when I thought your work couldn't get any better."
Bibi Raven, Linkbuilding Specialist, Bibi Buzz. 
"𝘐 𝘴𝘵𝘳𝘪𝘤𝘵𝘭𝘺 𝘶𝘴𝘦 𝘉𝘳𝘰𝘰𝘬𝘦 𝘵𝘰 𝘥𝘰 𝘢𝘭𝘭 𝘤𝘰𝘱𝘺𝘸𝘳𝘪𝘵𝘪𝘯𝘨, 𝘚𝘌𝘖, 𝘢𝘯𝘥 𝘬𝘦𝘺𝘸𝘰𝘳𝘥 𝘪𝘯𝘵𝘦𝘨𝘳𝘢𝘵𝘪𝘰𝘯 𝘧𝘰𝘳 𝘢𝘭𝘭 𝘮𝘺 𝘤𝘭𝘪𝘦𝘯𝘵𝘴. 𝘏𝘦𝘳 𝘲𝘶𝘢𝘭𝘪𝘵𝘺 𝘰𝘧 𝘸𝘰𝘳𝘬 𝘪𝘴 𝘴𝘪𝘮𝘱𝘭𝘺 𝘶𝘯𝘮𝘢𝘵𝘤𝘩𝘦𝘥. 𝘐'𝘷𝘦 𝘶𝘴𝘦𝘥 𝘰𝘵𝘩𝘦𝘳 𝘤𝘰𝘱𝘺𝘸𝘳𝘪𝘵𝘦𝘳𝘴 𝘪𝘯 𝘵𝘩𝘦 𝘱𝘢𝘴𝘵 𝘢𝘯𝘥 𝘵𝘩𝘦𝘺 𝘴𝘪𝘮𝘱𝘭𝘺 𝘥𝘰 𝘯𝘰𝘵 𝘤𝘰𝘮𝘱𝘢𝘳𝘦. 𝘉𝘳𝘰𝘰𝘬𝘦 𝘢𝘯𝘥 𝘐 𝘩𝘢𝘷𝘦 𝘢 𝘸𝘰𝘯𝘥𝘦𝘳𝘧𝘶𝘭 𝘳𝘦𝘭𝘢𝘵𝘪𝘰𝘯𝘴𝘩𝘪𝘱 𝘢𝘯𝘥 𝘮𝘺 𝘤𝘰𝘮𝘱𝘢𝘯𝘺 𝘪𝘴 𝘧𝘳𝘢𝘯𝘬𝘭𝘺 𝘭𝘶𝘤𝘬𝘺 𝘵𝘰 𝘩𝘢𝘷𝘦 𝘩𝘦𝘳. 𝘐 𝘸𝘰𝘶𝘭𝘥 𝘳𝘦𝘤𝘰𝘮𝘮𝘦𝘯𝘥 𝘉𝘳𝘰𝘰𝘬𝘦 𝘧𝘰𝘳 𝘢𝘯𝘺 𝘤𝘰𝘱𝘺𝘸𝘳𝘪𝘵𝘪𝘯𝘨 𝘫𝘰𝘣 𝘺𝘰𝘶 𝘮𝘢𝘺 𝘩𝘢𝘷𝘦, 𝘣𝘪𝘨 𝘰𝘳 𝘴𝘮𝘢𝘭𝘭."
Thomas McCormick, President of OMNI Digital Services
"𝘉𝘳𝘰𝘰𝘬𝘦 𝘥𝘪𝘥 𝘢𝘯 𝘢𝘮𝘢𝘻𝘪𝘯𝘨 𝘫𝘰𝘣 𝘧𝘰𝘳 𝘶𝘴 𝘰𝘯 𝘰𝘶𝘳 𝘣𝘭𝘰𝘨 𝘱𝘳𝘰𝘫𝘦𝘤𝘵! 𝘚𝘩𝘦 𝘸𝘢𝘴 𝘢𝘣𝘭𝘦 𝘵𝘰 𝘥𝘦𝘭𝘪𝘷𝘦𝘳 𝘩𝘪𝘨𝘩-𝘲𝘶𝘢𝘭𝘪𝘵𝘺 𝘸𝘰𝘳𝘬 𝘪𝘯 𝘰𝘶𝘳 𝘣𝘳𝘢𝘯𝘥 𝘷𝘰𝘪𝘤𝘦 𝘢𝘯𝘥 𝘸𝘢𝘴 𝘢𝘣𝘭𝘦 𝘵𝘰 𝘱𝘳𝘰𝘷𝘪𝘥𝘦 𝘵𝘩𝘦 𝘤𝘰𝘯𝘵𝘦𝘯𝘵 𝘷𝘦𝘳𝘺 𝘧𝘢𝘴𝘵 𝘧𝘰𝘳 𝘶𝘴 𝘵𝘰 𝘳𝘦𝘷𝘪𝘦𝘸. 𝘞𝘦 𝘸𝘪𝘭𝘭 𝘥𝘦𝘧𝘪𝘯𝘪𝘵𝘦𝘭𝘺 𝘣𝘦 𝘶𝘴𝘪𝘯𝘨 𝘩𝘦𝘳 𝘴𝘦𝘳𝘷𝘪𝘤𝘦𝘴 𝘢𝘨𝘢𝘪𝘯 𝘪𝘯 𝘵𝘩𝘦 𝘧𝘶𝘵𝘶𝘳𝘦. 𝘏𝘪𝘨𝘩𝘭𝘺 𝘳𝘦𝘤𝘰𝘮𝘮𝘦𝘯𝘥!"
Stephen Meduri, Harmoni LLC

"𝘉𝘳𝘰𝘰𝘬𝘦'𝘴 𝘢𝘯 𝘦𝘹𝘤𝘦𝘭𝘭𝘦𝘯𝘵 𝘭𝘰𝘯𝘨𝘵𝘪𝘮𝘦 𝘤𝘰𝘯𝘵𝘦𝘯𝘵 𝘱𝘢𝘳𝘵𝘯𝘦𝘳. 𝘚𝘩𝘦'𝘴 𝘢𝘭𝘸𝘢𝘺𝘴 𝘰𝘯 𝘵𝘰𝘱 𝘰𝘧 𝘥𝘦𝘢𝘥𝘭𝘪𝘯𝘦𝘴 𝘢𝘯𝘥 𝘩𝘦𝘳 𝘴𝘶𝘣𝘮𝘪𝘴𝘴𝘪𝘰𝘯𝘴 𝘢𝘳𝘦 𝘤𝘰𝘯𝘴𝘪𝘴𝘵𝘦𝘯𝘵𝘭𝘺 𝘩𝘪𝘨𝘩-𝘲𝘶𝘢𝘭𝘪𝘵𝘺. 𝘞𝘦 𝘭𝘰𝘷𝘦 𝘸𝘰𝘳𝘬𝘪𝘯𝘨 𝘸𝘪𝘵𝘩 𝘩𝘦𝘳 𝘢𝘯𝘥 𝘩𝘪𝘨𝘩𝘭𝘺 𝘳𝘦𝘤𝘰𝘮𝘮𝘦𝘯𝘥 𝘩𝘦𝘳 𝘴𝘦𝘳𝘷𝘪𝘤𝘦𝘴!"
Elizabeth Krone, Founder of Liz Krone Consulting
"𝘉𝘳𝘰𝘰𝘬𝘦 𝘸𝘢𝘴 𝘨𝘳𝘦𝘢𝘵! 𝘚𝘩𝘦 𝘸𝘢𝘴 𝘷𝘦𝘳𝘺 𝘵𝘩𝘰𝘳𝘰𝘶𝘨𝘩 𝘧𝘰𝘳 𝘵𝘩𝘦 𝘱𝘪𝘦𝘤𝘦 𝘐 𝘩𝘢𝘥 𝘵𝘰 𝘸𝘳𝘪𝘵𝘦 𝘢𝘯𝘥 𝘐 𝘸𝘪𝘭𝘭 𝘥𝘦𝘧𝘪𝘯𝘪𝘵𝘦𝘭𝘺 𝘣𝘦 𝘶𝘴𝘪𝘯𝘨 𝘩𝘦𝘳 𝘢𝘨𝘢𝘪𝘯 𝘧𝘰𝘳 𝘧𝘶𝘵𝘶𝘳𝘦 𝘸𝘳𝘪𝘵𝘪𝘯𝘨 𝘱𝘳𝘰𝘫𝘦𝘤𝘵𝘴! 𝘐 𝘩𝘪𝘨𝘩𝘭𝘺 𝘳𝘦𝘤𝘰𝘮𝘮𝘦𝘯𝘥 𝘸𝘰𝘳𝘬𝘪𝘯𝘨 𝘸𝘪𝘵𝘩 𝘩𝘦𝘳 𝘢𝘴 𝘴𝘩𝘦 𝘸𝘢𝘴 𝘸𝘪𝘵𝘵𝘺, 𝘸𝘦𝘭𝘭 𝘸𝘳𝘪𝘵𝘵𝘦𝘯 𝘢𝘯𝘥 𝘸𝘦𝘭𝘭 𝘳𝘦𝘴𝘦𝘢𝘳𝘤𝘩𝘦𝘥. 5 𝘴𝘵𝘢𝘳𝘴 𝘢𝘭𝘭 𝘢𝘳𝘰𝘶𝘯𝘥!"
Erika Schlick, Trail to Health

Ready to Hire a Health Writer?
If you're curious about rates, want to schedule a call, or have any other questions, head to my contact page to get in touch.