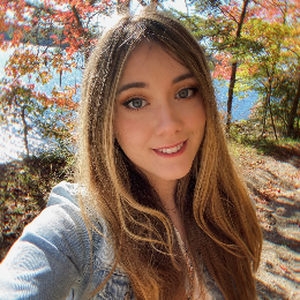 Need to Hire a Health Writer?
Hi, my name's Brooke.
I'm a freelance writer who helps health & wellness brands and publications create their content.
I help you connect with your audience through research-backed articles, web copy, emails, and more.

Check out my portfolio and learn more about how I can help you here!
What I Do
I work with holistic health and wellness businesses to create content that helps you educate and empower readers. 
I've written: 

•Editorial articles and personal experience stories for global news publications like Insider. 
•Blogs posts that made the featured snippet on Google.
•Copy that helped boost a client's organic search discovery by over 100% within 6 months.
•E-mails that improved click rates by 20% the first week I started.. 
Not to brag, or anything.

I specialize in breaking down complex topics into simple, easy-to-understand pieces. I can dive into dry scientific studies, grab relevant pearls of info, then incorporate them into engaging content that answers your reader's key questions. 
My clients trust me to create content that makes a difference. And I'd love to do the same for you.

Topics I Can Cover Include:
•Healthy Eating and Nutrition
•Intermittent Fasting and Time-Restricted Eating
•Specialized Diets, such as Keto, Paleo, or Plant-Based Diets
•Cannabis, CBD, THC and Other Cannabinoids
•Chronic illnesses and Autoimmune Conditions
•Healthy Skin, Hair, and Nails
•Gut Health & the Brain-Gut Connection
•Green and Sustainable Living
•Fitness and Exercise
•Mental and Spiritual Health
•Mindfulness, Meditation and Healthy Mindset
•Other Aspects of Holistic, Healthy Lifestyles
• Pet Health & Wellness

I'll ensure that your content is well-researched and backed by science, but still easy to read and fun – like chatting with a knowledgeable friend. 
My health and wellness content helps you educate readers and empower them to choose your brand. You don't have to worry about researching, writing, and editing everything yourself. I'll take care of the hard part, so you can focus on what matters to you – making a difference with your business..

Cool Words from Cooler People: 
"𝘉𝘳𝘰𝘰𝘬𝘦 𝘸𝘢𝘴 𝘨𝘳𝘦𝘢𝘵! 𝘚𝘩𝘦 𝘸𝘢𝘴 𝘷𝘦𝘳𝘺 𝘵𝘩𝘰𝘳𝘰𝘶𝘨𝘩 𝘧𝘰𝘳 𝘵𝘩𝘦 𝘱𝘪𝘦𝘤𝘦 𝘐 𝘩𝘢𝘥 𝘵𝘰 𝘸𝘳𝘪𝘵𝘦 𝘢𝘯𝘥 𝘐 𝘸𝘪𝘭𝘭 𝘥𝘦𝘧𝘪𝘯𝘪𝘵𝘦𝘭𝘺 𝘣𝘦 𝘶𝘴𝘪𝘯𝘨 𝘩𝘦𝘳 𝘢𝘨𝘢𝘪𝘯 𝘧𝘰𝘳 𝘧𝘶𝘵𝘶𝘳𝘦 𝘸𝘳𝘪𝘵𝘪𝘯𝘨 𝘱𝘳𝘰𝘫𝘦𝘤𝘵𝘴! 𝘐 𝘩𝘪𝘨𝘩𝘭𝘺 𝘳𝘦𝘤𝘰𝘮𝘮𝘦𝘯𝘥 𝘸𝘰𝘳𝘬𝘪𝘯𝘨 𝘸𝘪𝘵𝘩 𝘩𝘦𝘳 𝘢𝘴 𝘴𝘩𝘦 𝘸𝘢𝘴 𝘸𝘪𝘵𝘵𝘺, 𝘸𝘦𝘭𝘭 𝘸𝘳𝘪𝘵𝘵𝘦𝘯 𝘢𝘯𝘥 𝘸𝘦𝘭𝘭 𝘳𝘦𝘴𝘦𝘢𝘳𝘤𝘩𝘦𝘥. 5 𝘴𝘵𝘢𝘳𝘴 𝘢𝘭𝘭 𝘢𝘳𝘰𝘶𝘯𝘥!"
Erika Schlick, Trail to Health

"𝘐 𝘴𝘵𝘳𝘪𝘤𝘵𝘭𝘺 𝘶𝘴𝘦 𝘉𝘳𝘰𝘰𝘬𝘦 𝘵𝘰 𝘥𝘰 𝘢𝘭𝘭 𝘤𝘰𝘱𝘺𝘸𝘳𝘪𝘵𝘪𝘯𝘨, 𝘚𝘌𝘖, 𝘢𝘯𝘥 𝘬𝘦𝘺𝘸𝘰𝘳𝘥 𝘪𝘯𝘵𝘦𝘨𝘳𝘢𝘵𝘪𝘰𝘯 𝘧𝘰𝘳 𝘢𝘭𝘭 𝘮𝘺 𝘤𝘭𝘪𝘦𝘯𝘵𝘴. 𝘏𝘦𝘳 𝘲𝘶𝘢𝘭𝘪𝘵𝘺 𝘰𝘧 𝘸𝘰𝘳𝘬 𝘪𝘴 𝘴𝘪𝘮𝘱𝘭𝘺 𝘶𝘯𝘮𝘢𝘵𝘤𝘩𝘦𝘥. 𝘐'𝘷𝘦 𝘶𝘴𝘦𝘥 𝘰𝘵𝘩𝘦𝘳 𝘤𝘰𝘱𝘺𝘸𝘳𝘪𝘵𝘦𝘳𝘴 𝘪𝘯 𝘵𝘩𝘦 𝘱𝘢𝘴𝘵 𝘢𝘯𝘥 𝘵𝘩𝘦𝘺 𝘴𝘪𝘮𝘱𝘭𝘺 𝘥𝘰 𝘯𝘰𝘵 𝘤𝘰𝘮𝘱𝘢𝘳𝘦. 𝘉𝘳𝘰𝘰𝘬𝘦 𝘢𝘯𝘥 𝘐 𝘩𝘢𝘷𝘦 𝘢 𝘸𝘰𝘯𝘥𝘦𝘳𝘧𝘶𝘭 𝘳𝘦𝘭𝘢𝘵𝘪𝘰𝘯𝘴𝘩𝘪𝘱 𝘢𝘯𝘥 𝘮𝘺 𝘤𝘰𝘮𝘱𝘢𝘯𝘺 𝘪𝘴 𝘧𝘳𝘢𝘯𝘬𝘭𝘺 𝘭𝘶𝘤𝘬𝘺 𝘵𝘰 𝘩𝘢𝘷𝘦 𝘩𝘦𝘳. 𝘐 𝘸𝘰𝘶𝘭𝘥 𝘳𝘦𝘤𝘰𝘮𝘮𝘦𝘯𝘥 𝘉𝘳𝘰𝘰𝘬𝘦 𝘧𝘰𝘳 𝘢𝘯𝘺 𝘤𝘰𝘱𝘺𝘸𝘳𝘪𝘵𝘪𝘯𝘨 𝘫𝘰𝘣 𝘺𝘰𝘶 𝘮𝘢𝘺 𝘩𝘢𝘷𝘦, 𝘣𝘪𝘨 𝘰𝘳 𝘴𝘮𝘢𝘭𝘭."
Thomas McCormick, President of OMNI Digital Services

"𝘉𝘳𝘰𝘰𝘬𝘦 𝘥𝘪𝘥 𝘢𝘯 𝘢𝘮𝘢𝘻𝘪𝘯𝘨 𝘫𝘰𝘣 𝘧𝘰𝘳 𝘶𝘴 𝘰𝘯 𝘰𝘶𝘳 𝘣𝘭𝘰𝘨 𝘱𝘳𝘰𝘫𝘦𝘤𝘵! 𝘚𝘩𝘦 𝘸𝘢𝘴 𝘢𝘣𝘭𝘦 𝘵𝘰 𝘥𝘦𝘭𝘪𝘷𝘦𝘳 𝘩𝘪𝘨𝘩-𝘲𝘶𝘢𝘭𝘪𝘵𝘺 𝘸𝘰𝘳𝘬 𝘪𝘯 𝘰𝘶𝘳 𝘣𝘳𝘢𝘯𝘥 𝘷𝘰𝘪𝘤𝘦 𝘢𝘯𝘥 𝘸𝘢𝘴 𝘢𝘣𝘭𝘦 𝘵𝘰 𝘱𝘳𝘰𝘷𝘪𝘥𝘦 𝘵𝘩𝘦 𝘤𝘰𝘯𝘵𝘦𝘯𝘵 𝘷𝘦𝘳𝘺 𝘧𝘢𝘴𝘵 𝘧𝘰𝘳 𝘶𝘴 𝘵𝘰 𝘳𝘦𝘷𝘪𝘦𝘸. 𝘞𝘦 𝘸𝘪𝘭𝘭 𝘥𝘦𝘧𝘪𝘯𝘪𝘵𝘦𝘭𝘺 𝘣𝘦 𝘶𝘴𝘪𝘯𝘨 𝘩𝘦𝘳 𝘴𝘦𝘳𝘷𝘪𝘤𝘦𝘴 𝘢𝘨𝘢𝘪𝘯 𝘪𝘯 𝘵𝘩𝘦 𝘧𝘶𝘵𝘶𝘳𝘦. 𝘏𝘪𝘨𝘩𝘭𝘺 𝘳𝘦𝘤𝘰𝘮𝘮𝘦𝘯𝘥!"
Stephen Meduri, Harmoni LLC

"𝘉𝘳𝘰𝘰𝘬𝘦'𝘴 𝘢𝘯 𝘦𝘹𝘤𝘦𝘭𝘭𝘦𝘯𝘵 𝘭𝘰𝘯𝘨𝘵𝘪𝘮𝘦 𝘤𝘰𝘯𝘵𝘦𝘯𝘵 𝘱𝘢𝘳𝘵𝘯𝘦𝘳. 𝘚𝘩𝘦'𝘴 𝘢𝘭𝘸𝘢𝘺𝘴 𝘰𝘯 𝘵𝘰𝘱 𝘰𝘧 𝘥𝘦𝘢𝘥𝘭𝘪𝘯𝘦𝘴 𝘢𝘯𝘥 𝘩𝘦𝘳 𝘴𝘶𝘣𝘮𝘪𝘴𝘴𝘪𝘰𝘯𝘴 𝘢𝘳𝘦 𝘤𝘰𝘯𝘴𝘪𝘴𝘵𝘦𝘯𝘵𝘭𝘺 𝘩𝘪𝘨𝘩-𝘲𝘶𝘢𝘭𝘪𝘵𝘺. 𝘞𝘦 𝘭𝘰𝘷𝘦 𝘸𝘰𝘳𝘬𝘪𝘯𝘨 𝘸𝘪𝘵𝘩 𝘩𝘦𝘳 𝘢𝘯𝘥 𝘩𝘪𝘨𝘩𝘭𝘺 𝘳𝘦𝘤𝘰𝘮𝘮𝘦𝘯𝘥 𝘩𝘦𝘳 𝘴𝘦𝘳𝘷𝘪𝘤𝘦𝘴!"
Elizabeth Krone, Founder of Liz Krone Consulting
"𝘐'𝘷𝘦 𝘩𝘢𝘥 𝘢 𝘨𝘳𝘦𝘢𝘵 𝘦𝘹𝘱𝘦𝘳𝘪𝘦𝘯𝘤𝘦 𝘸𝘪𝘵𝘩 𝘉𝘳𝘰𝘰𝘬𝘦. 𝘐'𝘷𝘦 𝘣𝘦𝘦𝘯 𝘸𝘰𝘳𝘬𝘪𝘯𝘨 𝘸𝘪𝘵𝘩 𝘩𝘦𝘳 𝘧𝘰𝘳 𝘢𝘭𝘮𝘰𝘴𝘵 𝘢 𝘺𝘦𝘢𝘳 𝘯𝘰𝘸. [𝘚𝘩𝘦] 𝘢𝘭𝘸𝘢𝘺𝘴 𝘳𝘦𝘴𝘱𝘰𝘯𝘥𝘴 𝘴𝘶𝘱𝘦𝘳 𝘧𝘢𝘴𝘵... 𝘕𝘰𝘵𝘩𝘪𝘯𝘨 𝘴𝘩𝘰𝘳𝘵 𝘰𝘧 𝘨𝘳𝘦𝘢𝘵 𝘸𝘰𝘳𝘬."
Hunter Tourte, Fiber Greens Protein Bar

Got Questions?
Send me a message on LinkedIn or fill out the form on my contact page to get in touch.